Get Your Free Copy of "A Breath of Life!"
I am so pleased and so honored that you have landed here!
And I am very grateful for your confidence and support. I am excited to bring the message of Breathwork to you!
Here is a Synopsis: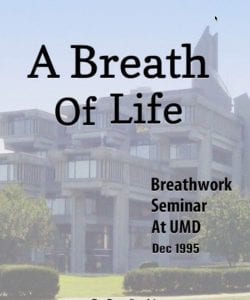 This is a "must-read" for anyone that is interested in personal growth, self-healing, and spiritual development on the planet today! Dan Brulé has been focused on studying, practicing, and teaching Breath and Breathing since 1970! "A Breath of Life" is a transcription of a Breathwork Seminar at UMD.
Breath Awareness is a very powerful thing. When you practice it, you begin to notice some important things. You'll learn things about yourself as well as your breath that you didn't know, things about your mind that you never noticed. There are a lot of benefits. Practicing "Breath Awareness" allows you to derive much more from any breathing exercise or technique you choose to practice.
Dan's intention is to bring together and to make available the most important things learned over the past 40 years into an educational and entertaining journey into the power and potential of breathwork—a "How To" guide to Breath Mastery.
If you are a breathwork practitioner, coach, or trainer, the book will give you many new tools and strategies; and if you are new to breathwork, it will shorten your learning curve by a mile and give you a solid foundation for your own practice.
Love and thanks,
Please complete the form below to receive your copy!